NEWS

"Vitamin D Status Is Not Associated With Risk For Less Common Cancers"



Despite hopes that higher blood levels of vitamin D might reduce cancer risk, a large study finds no protective effect against non-Hodgkin lymphoma or cancer of the endometrium, esophagus, stomach, kidney, ovary, or pancreas. In this study, carried out by researchers from the National Cancer Institute (NCI), part of the National Institutes of Health, and many other research institutions, data based on blood samples originally drawn for 10 individual studies were combined to investigate whether people with high levels of vitamin D were less likely to develop these rarer cancers.
More on this article and other news.

---

Mary Stolfa Cancer Foundation Contributors and Corporate Sponsors
Who supports the Stolfa Foundation? Click Here to find out.

CANCER ISSUES
Living with Cancer
Taking one day at a time, the will to survive, finding your inner strength, and more. One patient expressed his philosophy this way, "The death rate for any generation is 100 percent. We all die. However, I know what will probably kill me, while most people don't. We have no guarantee of how long we will live. But I believe it is truly the quality of life, not the quantity, that is most important.
Read on...
Radiation Therapy
What is radiation therapy, how does it work, how is it given, the risks involved, side effects, different treatment options and more.
Chemotherapy Side Effects
Information on chemotherapy side effects and how to help alleviate them. Nausea, pain, infection, fatigue, etc.
Nutrition
Information on Nutrition. Also, Eating hints for cancer patients before, during, and after treatment, the Food Guide Pyramid, and tips on Prevention.
Cancer Database
Enter our Cancer Database where you can find information on specific types of cancers. A brief overview, symptoms, stages, and treatment options.
Quit Smoking
Cigarette smoking is the single most preventable cause of premature death in the United States. Each year, more than 400,000 Americans die from cigarette smoking. In fact, one in every five deaths in the United States is smoking related. Every year, smoking kills more than 276,000 men and 142,000 women.

If you have tried to quit smoking, you know how hard it can be. It is hard because nicotine is a very addictive drug. For some people, it can be as addictive as heroin or cocaine. Quit Smoking Now
Beauty Tips
For helpful beauty tips while going through chemotherapy, visit our Beauty Parlor. Here you'll find helpful hints on everything from make-up, to skin, to hair and more.

STORIES

WALL OF HONOR and STORIES OF HOPE

Liana's Story
Enter our "Wall of Honor" to read about a very special friend. Her story and more.


Gayle's Story
Enter our "Wall of Honor" to read about a very special hero. Her story and more.



Gina's Story
Enter our "Stories of Hope" page to read Gina's inspiring story. Her story and more.




Margaret's Story
Enter our "Stories of Hope" page to read the inspirational story of Margaret. Her story and more.































QUICK FACTS

Red Wine and Cancer Prevention
Can red wine prevent cancer? Certain compounds found in red wine are thought to have antioxidant or anticancer properties.





Garlic and Cancer Prevention
Does garlic prevent cancer? Studies provide compelling evidence.





Tea and Cancer Prevention
Tea drinking is an ancient tradition dating back 5,000 years in China and India. Long regarded in those cultures as an aid to good health, researchers now are studying tea for possible use in the prevention and treatment of a variety of cancers.



The Stolfa Foundation continues to raise funds to assist cancer patients and their families as well as contribute thousands towards cancer research.
Click Here to visit our fundraisers page.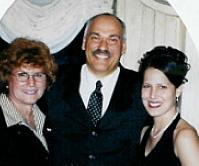 View our previous newsletters, "Hope".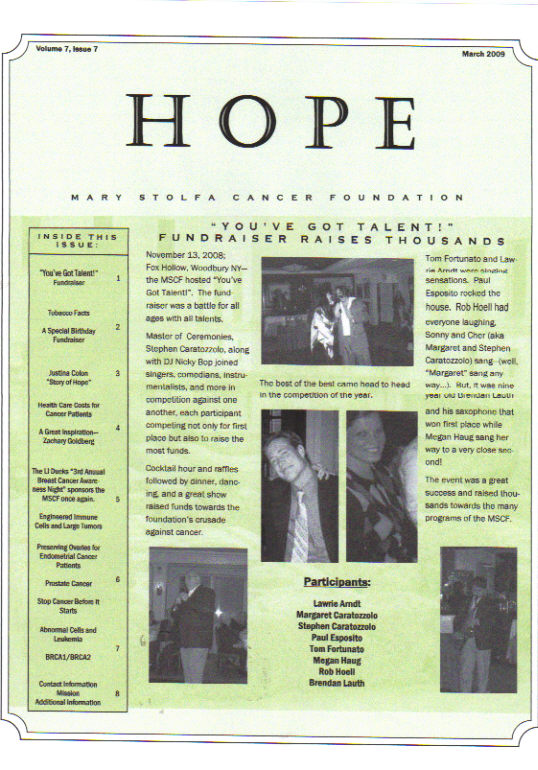 See the most recent awards/public
acknowledgement received by the MSCF.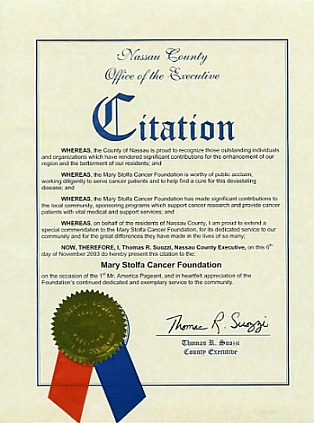 Mary Stolfa Interview with News 12 Eileen Lehpamer. Click below to view or here for other public acknowledgement