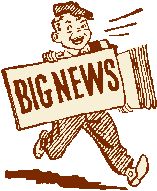 Subscribe to "HOPE", the MARY STOLFA CANCER FOUNDATION annual newsletter.
Our informative newsletter discusses significant cancer related news and current events, crucial facts and data including cancer nutrition, latest advancements in diagnosis and treatment options, helpful hints for chemotherapy side effects, and many other cancer related issues. There are also inspirational stories of hope, what you can do to help, and what the foundation is doing in the fight against cancer.
To receive our newsletter or subscribe for a family member or friend, please click the link below. Please remember to include the name and address of the recipient you wish for us to send.
Thank You.
To view previous newsletters:
HOPE NEWSLETTER VOLUME 1 - Click Here
HOPE NEWSLETTER VOLUME 2 - Click Here
HOPE NEWSLETTER VOLUME 3 - Click Here
HOPE NEWSLETTER VOLUME 4 - Click Here
HOPE NEWSLETTER VOLUME 5 - Click Here
HOPE NEWSLETTER VOLUME 6 - Click Here
HOPE NEWSLETTER VOLUME 7 - Click Here
HOPE NEWSLETTER VOLUME 8 - Click Here
HOPE NEWSLETTER VOLUME 9 - Click Here
HOPE NEWSLETTER VOLUME 10 - Click Here






HOPE Volume 1 | HOPE Volume 2 | HOPE Volume 3 | HOPE Volume 4 | HOPE Volume 5 | HOPE Volume 6 | HOPE Volume 7 | HOPE Volume 8 | HOPE Volume 9 | HOPE Volume 10 |

---
| About Mary Stolfa | Our Mission | Newsletter | Volunteer | Beauty Parlor | News Articles | Clinical Trials | Other Resources for Cancer Information | Nutrition | Foundation Acknowledgements/Public Acclaim | Foundation Projects | MSCF Products |
---
| Return Home | Fundraisers | Donations | Wall of Honor | Stories of Hope | Information on Specific Cancers (A-M) | Cancer Issues | Contact Us | Site Index | Search |